village network leadership
Executive Director
Dr. Baylis oversees the development and execution of strategic planning, partnerships and grant administration for The Village Network. With a team of 8 plus a 5-member PR team and 3-member education study team, and 8 member organizations, Dr. Baylis is responsible for day-to-day operations. She is currently the Equity and Systems Change Strategist for True Impact Consulting, LLC. Prior to her role with The Village Network, she spent two years with United Way of Battle Creek and Kalamazoo, most recently as Senior Director of Data & Equitable Systems. Dr. Baylis is a proud graduate of Western Michigan University where she earned her B.A. in Applied Liberal Arts, an M.A. in Educational Leadership and a Ph.D. in Evaluation, Measurement and Research.
Sr. Director of Economic Justice
Malik Goodwin is the Sr. Director of Economic Justice for The Village Network of Battle Creek and leads the Goodwin Management Group, which was founded in 2016. The Goodwin Management Group is a specialized consultancy firm with expertise in urban planning and economic development. They provide valuable insights to professional firms, private real estate developers, government organizations, and related agencies.
Prior to his involvement with The Village Network, Malik served as the Vice President of Project Management at the Detroit Economic Growth Corporation (DEGC) for 12 years. During his time at the DEGC, Malik assumed the responsibilities for a variety of tasks, including project planning, design and engineering, construction management, and interim operations. His expertise allowed him the opportunity to support major public-private economic development initiatives in downtown Detroit and other areas across the city.
Sr. Director of Social Justice
Sr. Network Coordinator
Irene Muthui is a Global Social Impact Leader and Project Manager, and Principal at B & Y Consulting, LLC. She specializes in resource mobilization and coordination for marginalized communities around the world. With over five years local and international experience, she has provided recommendations on descriptive representation in the Canadian Parliament, supported litigation on human rights and resource allocation in South Africa, and developed equitable investment strategies and structures for nonprofit organizations, initiatives, and Universities, in the United States. With an undergraduate degree in Political Science from the University of Michigan and a graduate degree in Violence, Conflict and Development from the University of London (SOAS), she navigates social impact spaces with a global, yet grounded perspective, centering the needs of marginalized communities by uplifting and resourcing their solutions through a systemic lens. In her free time, you can find Irene planning her next trip, reading her growing list of novels by African authors, and making dishes that remind her of home, Kenya.
Board Chair
Dr. Glass is an experienced dental clinician and diagnostician with a passion for helping others. He is a graduate of the University of Michigan School of Dentistry and is co-owner, along with his wife Dr. LaTisha Glass, of Glass Family Dental. Dr. Glass has been practicing in Battle Creek for more than 10 years. Dr. Glass has spent years engaging with and supporting the Battle Creek community and is a change-agent for the underserved. After a chance encounter with a community member at Parkway Manor, an affordable housing community, Dr. Glass started a diaper drive, earning him a George Award from the Battle Creek Enquirer in 2017. As Board Chair, Dr. Glass is responsible for ensuring the fiduciary and governance of the $1.5 million organization.
Board Secretary
Mr. Erick Stewart is the President of Stewart Industries, LLC for more than 20 years. He is a charismatic powerhouse, driving significant change on both the organizational and community levels. As an experienced culture creator and strategist, he has built expertise across small business development, program management, community engagement, and economic development. His career includes an extensive record of success developing high-impact strategies and driving optimal outcomes—even amid less-than-ideal circumstances (the economy, policy change, environment, etc.). Throughout each of his engagements, Mr. Stewart identifies opportunities for maximum impact in alignment with strategic goals while creating a safe environment in which all people have a voice, place, and operational autonomy.
Mr. Stewart established and grew a diverse workforce comprising 30% people of color and 40% female, amongst an environment of multi-generational and multi-cultural associates. He delivered world-class associate training around process control, quality, engineering, supervisory, and program management.He has a passion for small business, supplier diversity, and community. Since 2006, Mr. Stewart has been a prolific Board Member and Advisor, including leadership contributions to the Small Business Administration of Michigan, Battle Creek Unlimited (BCU), STARR Commonwealth, Bronson Battle Creek Hospital Community Partners (BBCHCP) Board, Southwestern Michigan Urban League, Battle Creek Tax Incremental Finance Authority (BCTIFA), United Way Battle Creek / Kalamazoo Region, and Priority Health Alliance (PHA – formerly Minority Health Partnership).
Enhancing his already impressive career and hands-on leadership, Mr. Stewart also holds a Bachelor of Science in Marketing from Southern University and A&M College (HBCU) and is a Life member of NAACP and Urban Leagues. Finally, Mr. Stewart lends his expertise as a mentor and guest facilitator to Stage I and II organizations through the Edward Lowe Foundation which supports small business and entrepreneurial development within the State of Michigan. As a father of five dynamic children, his family passion revolves around Social Justice, Education, Community Health, and Development and utilization of his talents to create an environment of "Systemic Equality" for all.
Board Member (Incoming)
Dr. Baskin is a student-centered leader with over 20+ years of educational administrative leadership and teaching experience at community colleges and universities. Currently, he serves as Dean of Workforce Development at Kellogg Community College and has held other senior leadership positions in higher education.  He has taught courses in Business and was a real estate agent with Century 21 Relators for nearly 10 years in Wisconsin before relocating to Michigan.
Baskin's plethora of experience in higher education has been focused on his commitment to equitable student success and advancing diversity, equity, and inclusion (DEI) for students, faculty, staff, and administrators.  Additionally, Dr. Baskin has been a huge advocate of social and criminal justice reform and restoring Pell Grants to incarcerated individuals.
Despite Dr. Baskin's own personal academic challenges, at the beginning of his academic journey (1.7 GPA and a 7 ACT Composite Score), he worked hard to earn solid educational credentials – a Bachelor of Business Administration Degree in Finance and a Master of Business Administration Degree in Business Management both from the University of Wisconsin – Whitewater, and a Doctor of Philosophy Degree in Educational Leadership and Policy Analysis from the University of Wisconsin – Madison.
Truth in Action Ministries 
Rev. Richard Bailey supports New Level Sports Ministries (NLSM), a faith-based youth development organization, and has long been involved with the community and the ministerial world. He has been a pastor in Battle Creek since 1990 and although he retired more than 10 years ago, he has never stopped serving the community through his passion for religion. Rev. Bailey has served many organizations, including as a member of National Association for the Advancement of Colored People (NAACP), United Community Ministerial Alliance, and now the Youth Village. In 1992, Rev. Bailey started a program called New Direction for Youth Action serving more than 60 young people annually for three years. His mission is to provide support to rising leaders in his community. He hopes to see people prosper with the support offered from programs such as The Village Network of Battle Creek. Rev. Bailey's love for people and Christ are what motivate him to continue to do his work and serve people around the area. 
He holds a double associate degree from Kellogg Community College and a bachelor's degree from Miller College in Battle Creek. He was also part of the Michigan Chamber of Commerce Leadership Academy. Rev. Bailey's favorite work experience was being an elementary school bus driver in the Battle Creek area.

Big Homies
Jeff Cotton is the founder of Big Homies, a nonprofit organization that is designed to help cultivate the potential of our youth and prepare them for successful futures. Big Homies offers several online as well as in-person programs that keep youth and young adults involved in positive community-based activities.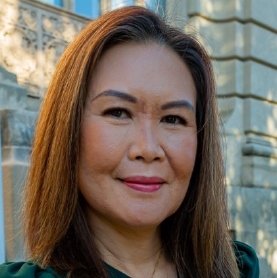 Co-Founder/Executive Director, Catching the Dream
Mai understands the challenges of immigration first-hand.  An immigrant from Burma (also known as Myanmar), she and her family moved to Battle Creek in 2011. Mrs. Mai struggled with the language barrier, working hard to assimilate while still retaining and honoring traditions from her native country. She also recognized that second generation immigrants including her three daughters were assimilating much more easily – so easily she worried they might forget their Burmese language and heritage. Mrs. Mai also knew that others in her community were facing the same issue. 
Putting her concerns into action, Mrs. Mai helped found the Catching the Dream Learning Center, a pre-school for children ages 1 through 5 located in The Burma Center in Springfield, MI. While most of the families served are from the Burmese community, Catching the Dream accepts all students and provides a program that respects cultural diversity and reflects the community. The school's curriculum is based on key developmental categories including language arts, numbers, science and health, social studies, motor skills and fine arts. The school also provides Burmese language training, promoting better communication within Burmese families. The school currently operates three classrooms for 44 students and a staff of 19 and is planning for additional growth.
Cool People
Keith Matthews is the founder of Brilliant Minds Family Counseling and is a licensed therapist in Battle Creek. He specializes in helping parents and their children learn how to properly manage traumatic and painful experiences. In 2009, Matthews co-founded Cool People, a non-profit organization dedicated to supporting the youth and families of Brilliant Minds, creating an extended family support system. This is accomplished by surrounding youth with positive peers and adult mentors. Matthews and the Cool People team are building a teen center and homeless shelter for youth who need a temporary place to safely stay.
Pastor of New Level Church 
Pastor Christopher J. McCoy is the Pastor of New Level Church (formally Faith Assembly Christian Fellowship) in Battle Creek, succeeding his father, Bishop Eugene McCoy, in 2008. He has been a resident of Battle Creek for over 35 years. In 2001, Pastor McCoy founded New Level Sports Ministries (NLSM), a faith-based youth development organization centered on the academic, personal growth and physical development of young people. The mission of New Level Sports Ministries is to maximize and balance the intellectual, spiritual, mental, and physical elements of all participating youth. To date, New Level Sports Ministries has served more than 18,000 youth and has a staff of more than 100 volunteers with partners in Battle Creek, Jackson, Kalamazoo, and Albion.
Pastor McCoy holds a bachelor's degree from Michigan State University in Public Affairs Management and Economics. He worked as an insurance salesperson for eight years before opening an independent Allstate insurance agency and earning national sales recognition. 
Executive Director, Community Fatherhood
Gilbert P. Ortiz, Jr. is the Executive Director at Community Fatherhood in Calhoun County, Michigan. He has been a resident of Battle Creek, MI for over 37 years. In 2009, Gilbert Ortiz founded Community Fatherhood, a nonprofit organization serving Calhoun County. Their mission is to provide training, resources, and support to fathers and father figures to impact the lives of children in the community. Since its inception, Community Fatherhood has served over 5,000 men and their families through partners in Marshall, Albion, Jackson, Kalamazoo, Three Rivers, and Sturgis, Michigan. 
Gilbert Ortiz holds a bachelor's degree in Human Services Administration from Siena Heights University in Battle Creek, MI. He has worked and volunteered in the nonprofit sector for the majority of his career.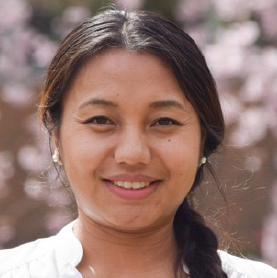 Executive Director of the Burma Center 
Tha Tin Par is the executive director of Burmese American Initiative Inc. (Burma Center) in Springfield, Michigan, right outside Battle Creek. She was a member of the Burma Center board of directors since 2019 and became the executive director one year later after the retirement of Martha Thawnghmung, one of the founders of the Center. Par is a social change activist with a background in facilitation, curriculum development, community organizing, and youth programs. She is passionate about creating an inclusive and equitable world by dismantling all forms of oppression. Par's passion for social justice and equity stems from her faith as a Christian and her personal life experience as an Asian American woman. Prior to joining the Burma Center team, Par co-founded the Truth and Titus Collective, which is a consulting agency dedicated to fostering, co-creating, and sustaining organizational change with equity at the core. She holds a bachelor's degree in Sociology and a master's in Social Work from the University of Michigan. Par is a limited licensed master social worker and certified professional life coach through Leadership That Works.
A. Philip Randolph Institute
Deboraha Sallee, President of A. Philip Randolph Institute (APRI) – Greater Battle Creek Chapter, is one of the original organizers of the chapter and has been with the organization for 44 years, serving as president for 37 years. APRI was founded on the need for social, political, and economic justice for Black people and all dispossessed Americans. Sallee was also instrumental in organizing APRI throughout Michigan and served as 3rd Vice President on the Michigan State APRI Board for 50 years. She is a retired member of the Service Employees International Union (SEIU) Local #527 and an original organizer of SEIU Unit #26, City of Battle Creek Employees. On the American Federation of Labor and Congress of Industrial Organizations Labor Council, she sat on the executive board as the first African American woman serving as recording secretary, secretary, and treasurer. Sallee also sat on the board of directors of the Tri-County Labor Agency for Human Services, Inc. As a public servant, Sallee worked in the finance department as an account clerk and as the payroll officer for the City of Battle Creek, retiring in December 2001 after 33 years of service.  Salle has served as a Commissioner for the City of Battle Creek and on the Historic District and Special Assessment Commissions. 
She is deeply involved with the Second Missionary Baptist Church, where she serves in many leadership roles, including Second's New Vision and Outreach Ministries (SNVOM) with the Music Ministry Workshop, After School Literacy Incentive Program, and NorthSide Senior Meal Program. 
Kingdom Builders Worldwide
Pastor Tino Smith is the senior pastor of Kingdom Builders Worldwide. Throughout his career, Pastor Smith often wore two hats: one as minister and the other as provider for his family. After retiring from FedEx in Memphis, TN and his church ministry in Terre Haute, IN, he returned to Battle Creek to care for his ailing father and discovered a new mission in his hometown.  His plan resulted in the founding of Kingdom Builders Worldwide, a church and community hub in the Post Addition community of Battle Creek located at 50 Spencer Street. Dedicated to creating positive change in his community, Pastor Smith and the Kingdom Builders Worldwide provide on-site food distribution, transportation solutions, driver's education, financial literacy classes and more.  Pastor Smith earned his PhD and ThD and completed the requisite residence as a member of the Oxford Round Table in Oxford, England. He recited and subscribed as a faithful member to the Bodleian Declaration at the Bodleian Library at the University of Oxford. 
His proudest accomplishment is being husband to Nicole and father to adult children BreAnna and Tito II.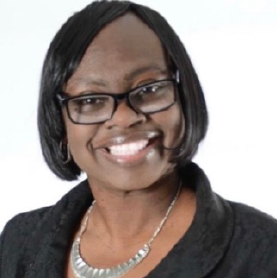 Southwestern Michigan Urban League
Kyra Wallace is the President/CEO of the Southwestern Michigan Urban League.  Wallace leads the non-profit organization and its work to help African Americans and others in underserved communities achieve their highest true social parity, economic self- reliance, power, and civil rights.  Prior to becoming the President/CEO she served in a variety of positions within the organization after joining in 2006.
Throughout her more than 24 years in both the educational and non-profit sectors, Wallace has participated in numerous sector efforts to enhance both.  She currently serves as the Vice President for Battle Creek Public Schools Board of Education, Lifetime member of the Battle Creek Chapter of the NAACP, Communities in School (CIS) Board member, Population Health Alliance member, Downtown Development Authority board member, Battle Creek Alumnae Chapter of Delta Sigma Theta, Inc. member and Love In Action Community Ministries member.  She was appointed by the Governor to serve on the State Complete Count Committee.  Wallace has served on numerous other boards and committees through the years.
Wallace holds a bachelor's and master's degree from Western Michigan University in Education.  She is also a certified life coach and entrepreneur.  Wallace is married with one daughter, a stepson and a host of God-children all of whom she loves dearly. In her spare time, Wallace enjoys couponing, singing, traveling, reading and spending time with her loved ones.
together,
these organizations are working collaboratively to achieve equity and challenge systemic and structural barriers to their growth and prosperity.